On Sunday,   April   29,   2018,   Bugesera   District held the monthly community sport. Benefactor David Clinic participated in it, and they performed free Body Mass Index (BMI) and Blood Pressure (BP) screening, as well as free health education to all the willing participants.
The BMI helps people to know if they are underweight, normal weight, overweight, or obese so that they can take care of themselves according to their statuses. The blood pressure provides the health situation of their heart.
During Sunday's activity, we were able to screen 56 people and provide them with health education according to their statuses.
Observation and Results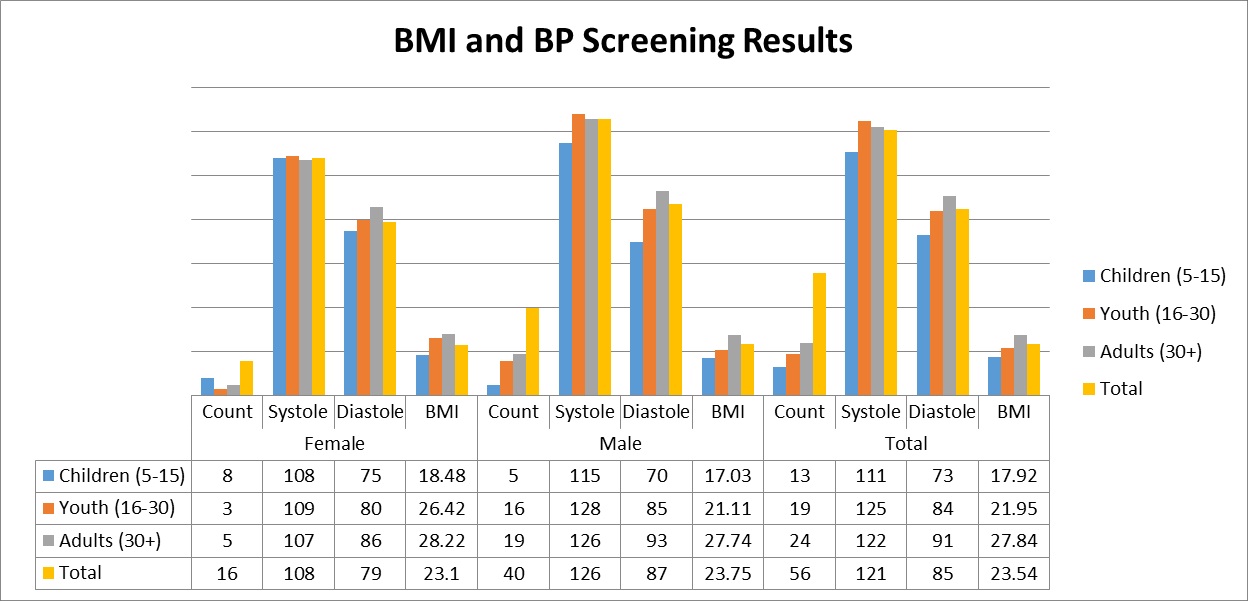 According to these results, we can conclude that even if the community sport is attended by a little number, all the age ranges are represented, from children to adults. Moreover, we can also notice that the number of women is far low than men in all ranges of age.
The average blood pressure is quite normal across all the categories of the participants. For blood pressure to be normal, it is comprised between 149 and 70 for the systole, and between 90 and 50 for the diastole.
For the BMI, the overall average (23.54) for all the participants falls into the normal range (18.5 to 25.5 kg/m2). However, it is at a minimally normal level for children and it falls into the overweight range for adults. By the way, this is the category that is the most exposed to metabolic diseases and other Non-Communicable Diseases (NCDs) such as High Blood Pressure, and Diabetes.
Recommendations
We are really thankful for the support we received from the authority, and especially from Bugesera Youth Council. First, you early understood the leitmotiv of our activity, and you engage in supporting us. Your support motivates us to move higher.
However, there are some improvements that we would want to recommend in order to make the community event more beneficial to the community.
First, there is a need to increase the attendance rate, especially for women. This will help us and the sector to make the population healthy. In addition, it helps the sector and the health actors to access a wide range of data about health issues, which data can contribute to accurate decision-making.
Second, we would recommend an increase in the number of performed screenings. For example, we should think about including a blood test and blood group determination. This would help the individuals to get more information about their health status.
Otherwise, we appreciate your collaboration, and we are looking forward to reinforcing it for a long and better.